Adult Park Admission
Non-Member, Ages 13 – 64, per person -$12
Military/First Responder Adult Admission – $10:
Child Park Admission
Non-Member, Ages 3 – 12, per person – $7
Military/First Responder Child Admission – $5
Senior Park Admission
Non-Member, Ages 65 and older, per person – $10
Military/First Responder Senior Admission – $8
All Children Under 3 Years Old – Free
Tickets also available at the
Welcome Center!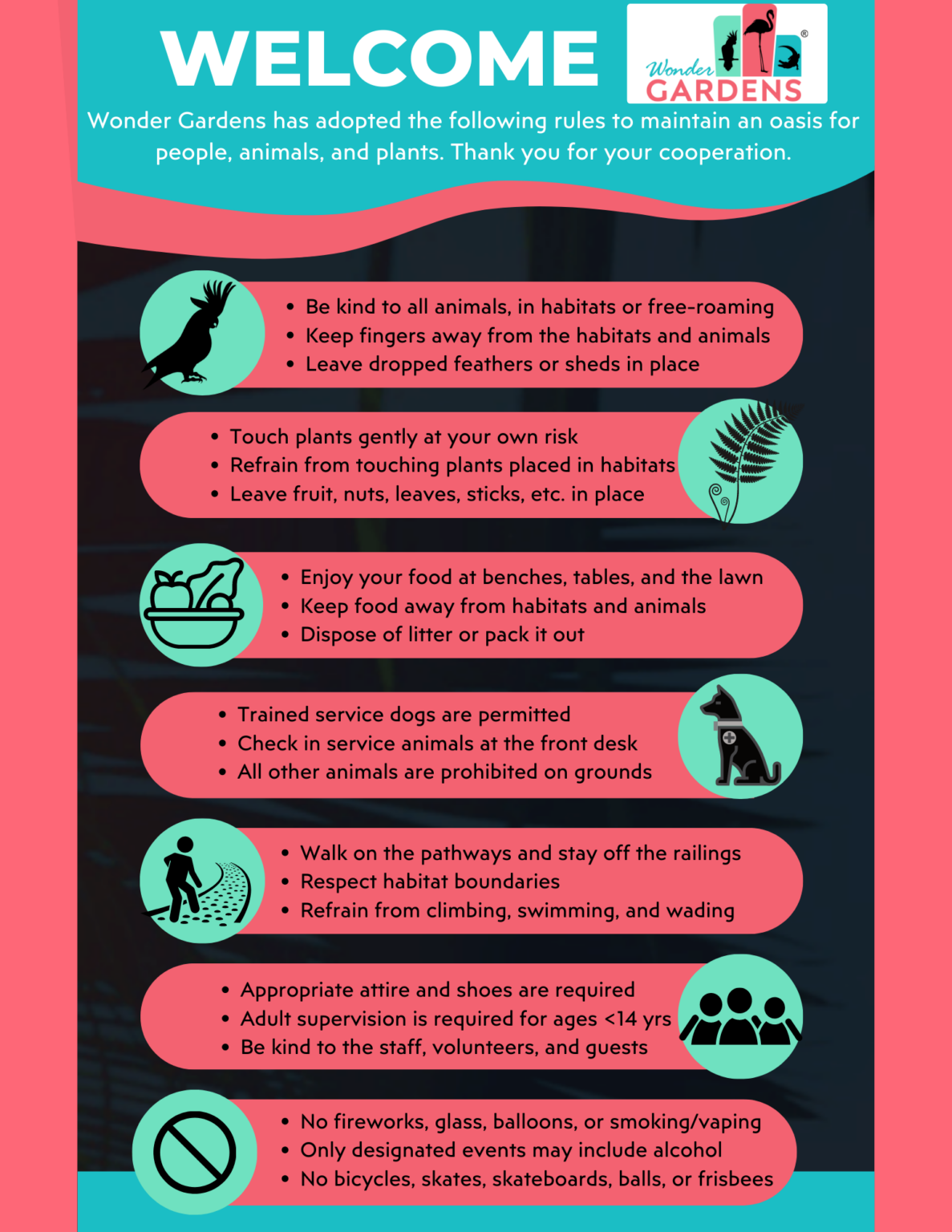 Pre-Paying Admission
Reservations are not required. However, we do offer online ticket purchases for your convenience. Just select the number of places and the date you would like to reserve to make your reservation. Please have the email confirmation and your ID when you arrive so we can confirm your reservation. Tickets are not refundable, and you acknowledge this by purchasing your admission on this site. However, if you cannot use your ticket on the day you booked, call 239-992-2591 to change the date of your reservation.
Service Animals
Service animals are permitted on Wonder Gardens property where the public is allowed per ADA requirements. All service animals must be under the control of the handlers. Registered emotional support animals or pets are not permitted on Wonder Garden's property. For full ADA Requirements, click here.
Weather & Lightning
We monitor all weather conditions on national weather and local radar. Florida weather is unpredictable at best. If a thunderstorm develops and lightning is indicated within 10 miles, guests must come into the Welcome Center until the "all clear" is given 30 minutes after the last lightning strike. Please check the weather map prior to your visit so you aren't caught by surprise!
Wheelchair Accessible
We are wheelchair accessible.
Wheelchairs are FREE to use.
There is a ramp up to the Welcome Center, and there are a limited amount of wheelchairs available on a first-come, first-served basis.
Wonder Garden's main pathways are accessible and USDA approved.
Food & Drink
You may bring food and non-alcoholic drinks to The Wonder Gardens for your own consumption.
Alcohol & glassware is strictly prohibited.
We ask that you do not try to feed any of your own food to any of the animals.
Please dispose of any trash in the provided cans around the park.
Visitors with Appointments with Employees
All visitors to The Wonder Gardens must enter the premises through the Welcome Center.
If you have an appointment with someone, check-in at the desk and sign in.
We will let the employee know you have arrived.